WHERE CAN I FIND THE SOFTWARE VERSION?
The software version of the portal can be found in your account in the left menu bar at the bottom. It starts with a v of 'version' and then is followed by some numbers that change after every release.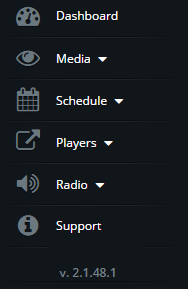 HOW ARE THE NUMBERS OF THE SOFTWARE VERSION BUILT?
After every release, there is a new software version. The first two numbers refer to the overall version of the software. When there is a whole new design, the version will go up. For example v.2.1 will become v.3.1. The third and fourth digit in the version refer to the number of the sprint that is released. A sprint is a period of time in which issues are fixed and new features are built into the software. After the release, a new sprint starts. When there are releases during a sprint, only the last digit changes.