WHAT IS A TWITTER TEMPLATE?
We have a large supply of templates that a user can use to fill in with its own content. One of the categories of templates that we have is social media. In this category the Twitter template can be found. Want to know more about our social media templates? Click here.
HOW DO I CREATE THE TWITTER TEMPLATE?
1. Go to [Create New Clip] on the dashboard.
2. Use the search tool or go to the category social media with the dropdown.
3. Select new clip when mousing over the Twitter template.
4. A pop-up opens. Fill in a name for the template where you can recognize it by (this name will not appear on screen).
5.  Fill in the Twitter name in without @ in the textbar. Click on next.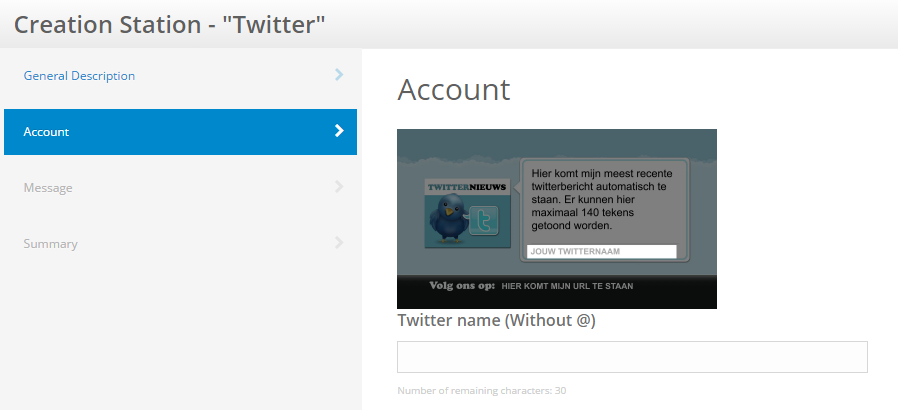 6. Enter the number of feed you want to show (1 is most recent).
7. Select [Save].
After this you can add it to a playlist and schedule it. To learn more about this, click here.
HOW DOES THE TWITTER TEMPLATE WORK?
In chronological sequence from present to past the tweet corresponding to the number is being displayed. For example if the input is 1, the latest tweet will be shown. if the input is 2, the pen ultimate tweet will be shown. etc. etc.
if a picture is included in the tweet this picture will also be shown.